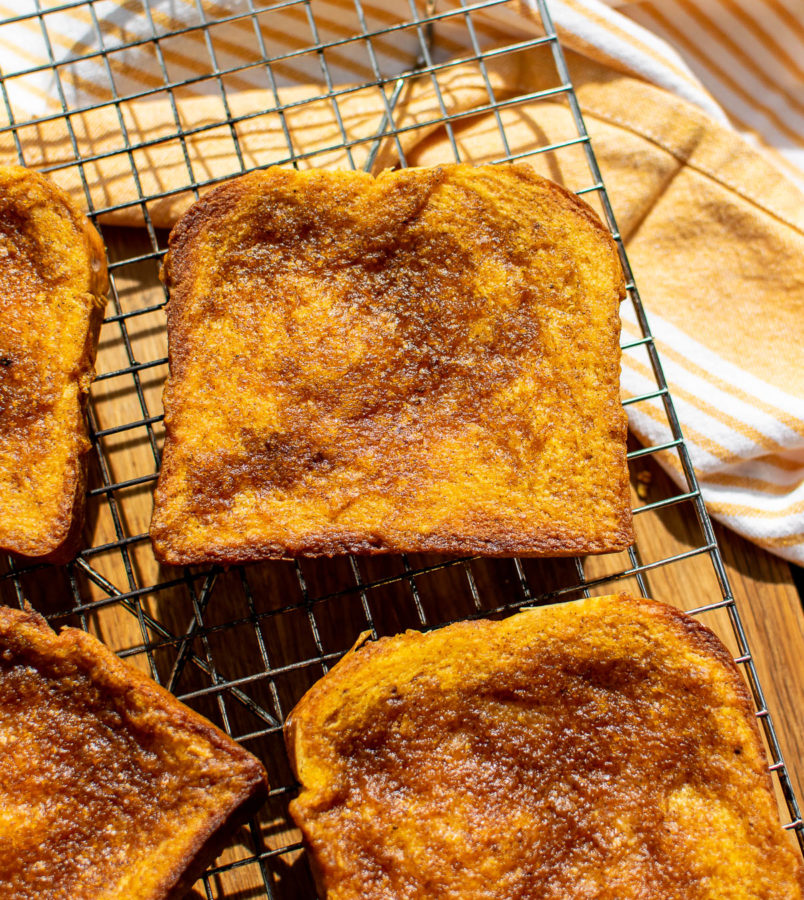 Cinnamon toast, but make it pumpkin! This fun twist on the classic will have you reliving your childhood in a fun, fall way!
Who else had cinnamon toast all the time as a kid?! My mom would make it for us, and then when we were a bit older, we made it for ourselves. It's probably the first thing I learned how to cook since it's so easy!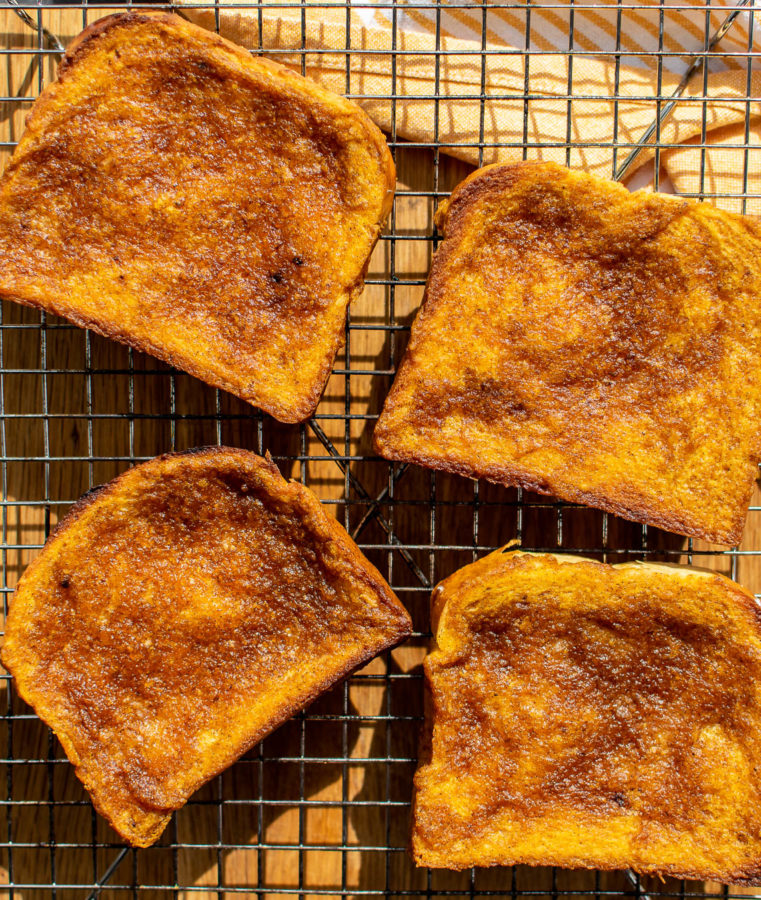 *This post may contain affiliate links. See disclosure for further details.
Will it pumpkin spice?
You know those videos where people put different foods into a waffle iron and ask, "will it waffle?" well thats how I approached this recipe. Will it pumpkin spice? Yes! This recipe was easy to give the pumpkin spice makeover to. You will only need a few extra ingredients and swaps and it literally ends up tasting like pumpkin pie! So good.
What are the ingredients?
Sliced brioche bread: I love brioche for cinnamon toast because of it's fluffiness and slight sweetness. It's perfect for this recipe!
Unsalted butter: I like unsalted butter instead of salted butter for this recipe so that you can be in better control of the salt! A pinch of kosher salt is all you'll need to counteract the sugar and brioche.
Pumpkin Puree: You gotta have a little pumpkin in your pumpkin spice toast! Grab the pumpkin puree, not pumpkin pie filling.
Sugar: Granulated sugar, not powdered.
Pumpkin Spice: Of course! You can find pumpkin pie spice at any grocery store nowadays.
Kosher Salt: Just a pinch!
Recipe FAQ
I can't find brioche, what should I use?
Plain old white bread will do just fine! You want something light and fluffy.
Can I skip the pumpkin?
You can...but I hope you don't! The pumpkin adds a nice creaminess and a very subtle flavor. If you really don't want to add it, you can leave it out.
You might also like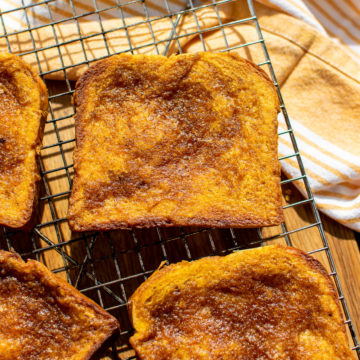 Pumpkin Spice Cinnamon Toast
Cinnamon toast, but make it pumpkin! This fun twist on the classic will have you reliving your childhood in a fun, fall way!
Ingredients
6

Slices brioche bread

¼

Cup

unsalted butter

softened

¼

Cup

pumpkin puree

¼

Cup

granulated sugar

½

Teaspoon

pumpkin pie spice

¼

Teaspoon

cinnamon

Pinch of kosher salt
Instructions
Pre heat oven to 350 degrees.

Add the the softened butter, pumpkin puree, sugar, pumpkin pie spice, cinnamon and a pinch of salt and mix well. Taste and adjust to your preference.

Spread the butter mixture on each piece of bread, all the way to the edges.

Arrange the bread on a baking sheet and bake for 10 minutes, or until the bread is toasted. Broil for an additional 2 minutes until the sugar is bubbling.

Transfer the toast to a cooling rack so that the bottoms don't get soggy and cool slightly before cutting into triangles.