Mussels with Cannellini Beans and Tomatoes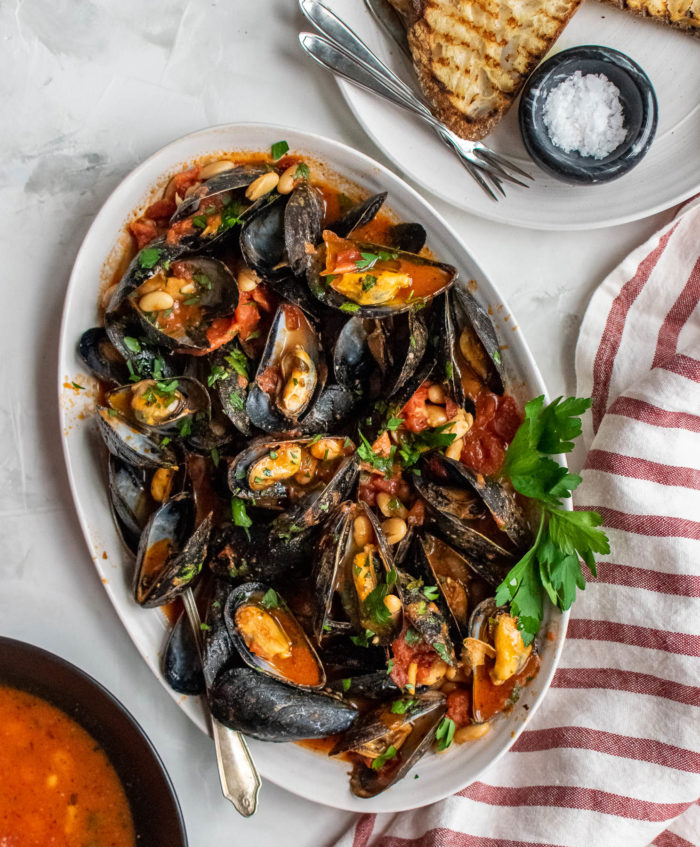 This is an easy and flavorful dish that comes together fast! You can serve these mussels as an appetizer or grab some crusty bread and make a meal of it.
This recipe is one of my favorites to make on Christmas Eve for the Feast of the Seven Fishes! We serve it as an appetizer or first course. The Feast of the Seven Fishes is an Italian American tradition of eating seven (or more!) seafood dishes on Christmas Eve. The idea of eating seafood stems from the Roman Catholic tradition of abstaining from meat the day before a holiday, in this case, Christmas day. Today, it's just about the tradition of eating lots of tasty seafood on Christmas Eve! At least for my family. I always look forward to Christmas Eve so much—it's got to be the most delicious day of the year!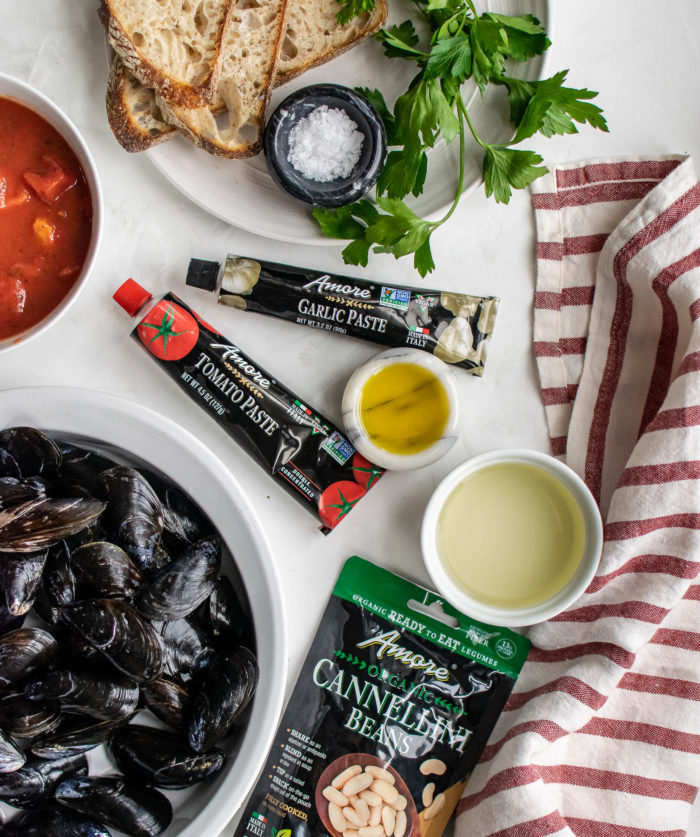 Of course, you don't have to be Italian to celebrate The Feast of the Seven Fishes! Any seafood lover can (and should) take part. Also, I probably don't need to state the obvious, but it doesn't need to be Christmas time to enjoy these mussels. In fact, mussels are so fast and easy to cook, they make a great weeknight dinner, any time of year. Bonus points: they're healthy and inexpensive!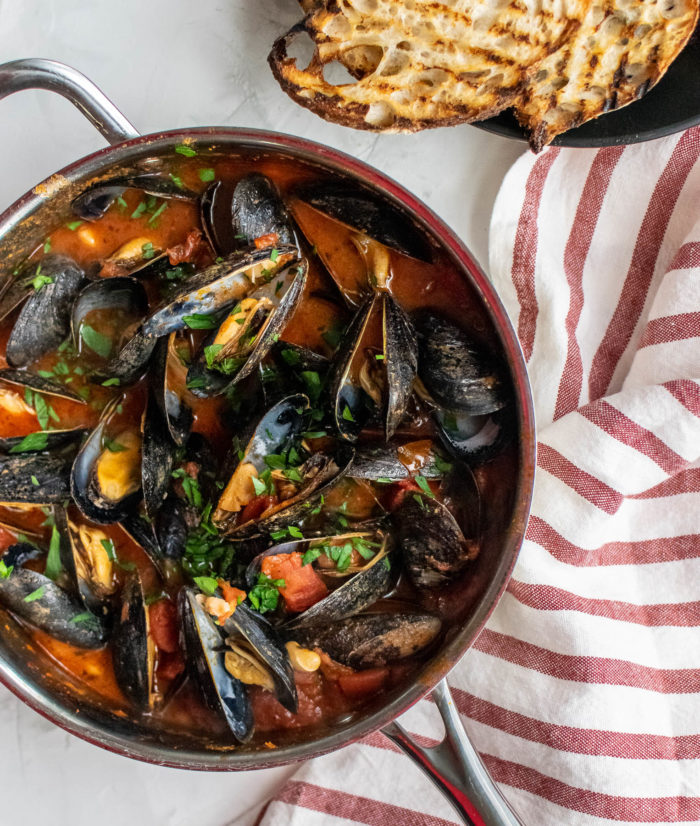 It can be tricky to develop deep flavor in a recipe that only takes 20 minutes to make. That's why I love using Amore Tomato and Garlic Cooking Pastes in this recipe. The Tomato Paste has a delicious, concentrated tomato flavor that will make your sauce taste like it's been simmering all day. I like to use the Garlic Paste along with it so they join together and create a delicious base with great depth of flavor.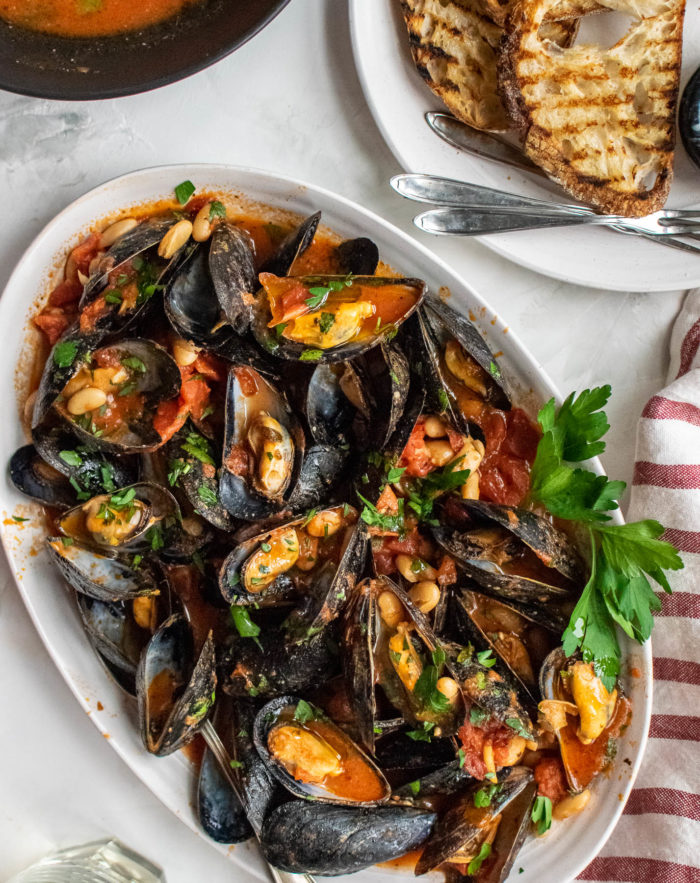 I love Amore Cooking Pastes (check out this Fusilli alla Vodka using Amore Tomato and Chili Pepper Pastes!) and have been using them for years, but lately I've been using more of their Ready-to-Eat Veggies as well. These Organic Ready-to-Eat Cannellini Beans go so perfectly with the mussels and helped round out the dish. I eat a lot of cannellini beans already so I'm excited to have found a ready to eat option!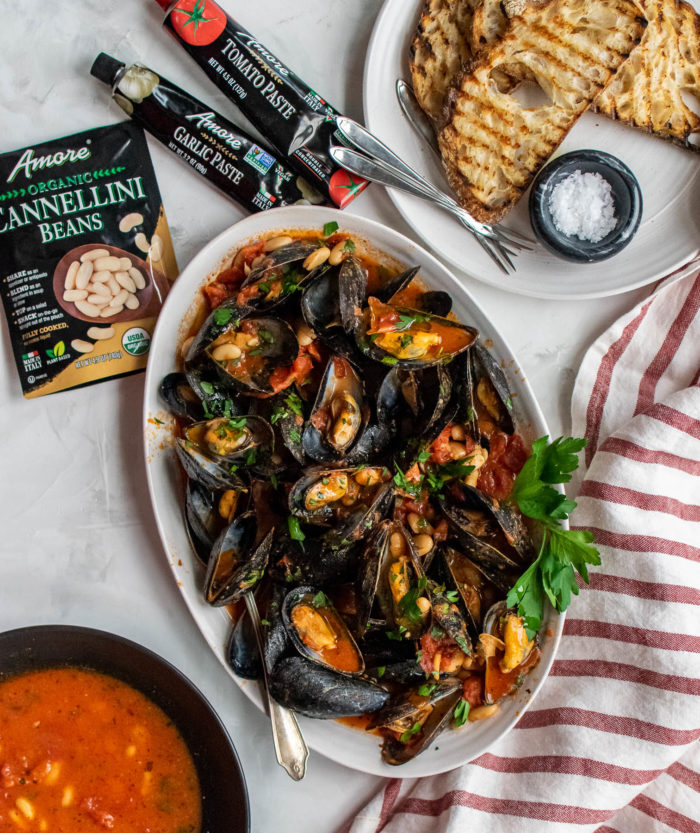 My favorite recipes are ones like this where you only need a few simple ingredients to create something so flavorful. All it takes is quality Italian ingredients! Click here to find out where to buy Amore products so that you can make these mussels.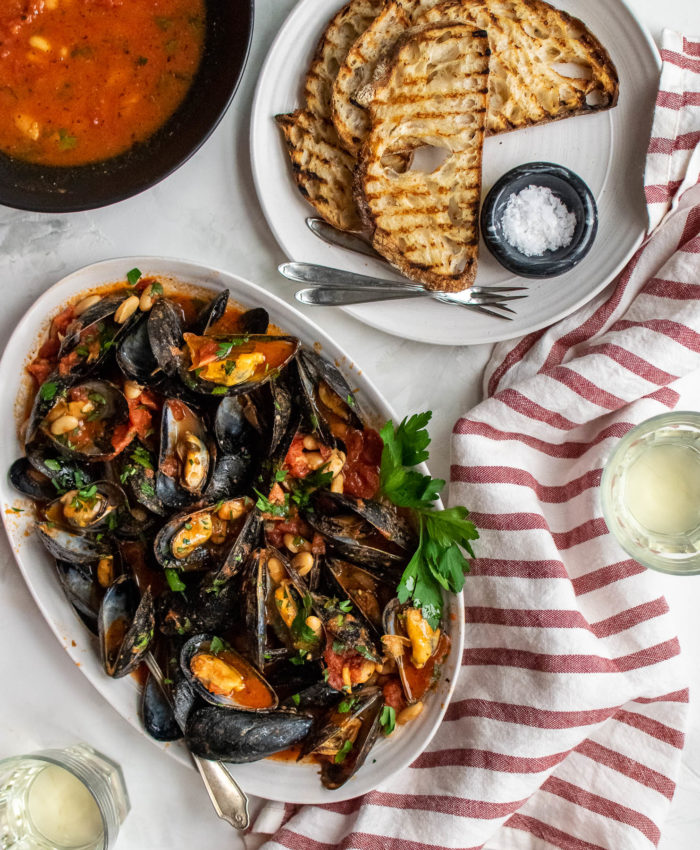 I hope you enjoy this dish whether for The Feast of the Seven Fishes, or any other day of the year. Just make sure to serve these mussels with plenty of bread to sop up every last drop of the broth!
Thank you, Amore, for sponsoring this post and supporting Carolyn's Cooking!
Recipe Summary
Mussels with Cannellini Beans and Tomatoes

Level:

Easy

Servings:

2-4

Ingredients:

1 Tablespoons olive oil
1 Tablespoon unsalted butter
1 Tablespoon Amore Tomato Paste
1 1/2 Teaspoons Amore Garlic Paste
1 (15 ounce) Can diced or crushed tomatoes
1/2 Cup dry white wine
1 (4.4 ounce) Package Amore Ready-to-Eat Cannellini Beans
2 Pounds mussels, cleaned and debearded
Salt and pepper, to taste
Fresh parsley, roughly chopped, for garnish
Flaky sea salt, for garnish
Crusty bread, grilled or toasted, for serving

Instructions:

In a large skillet with a lid, heat the butter and olive oil over medium. Add the tomato and garlic pastes, stir, and let cook for 2 minutes. Add the tomatoes, season with salt and pepper, and cook for 5 more minutes.
Add the wine, beans, and mussels, cover, and let cook until mussels have opened; about 5 minutes. Discard any mussels that did not open.
Garnish with fresh parsley and flaky sea salt. Serve immediately with crusty bread.
Enjoy!