Easy Naan Pizza with Fresh Mozzarella and Coppa
Pizza! Everybody loves pizza, right? Well, actually one time I did meet someone who didn't like pizza but it was so bizarre, I'm not sure if it even counts. Like, I'm pretty sure she was an alien. I kept an eye on her all night to see if she would shed her human suit and reveal herself as an alien who'd just not done a great job at studying up on humans before going undercover because ALL humans love pizza. Anyway, the point is, everybody loves pizza and this is a recipe for easy—and delicious—pizza! Also, for any aliens that might be reading this, if you're going to pretend to be a human, eat some pizza.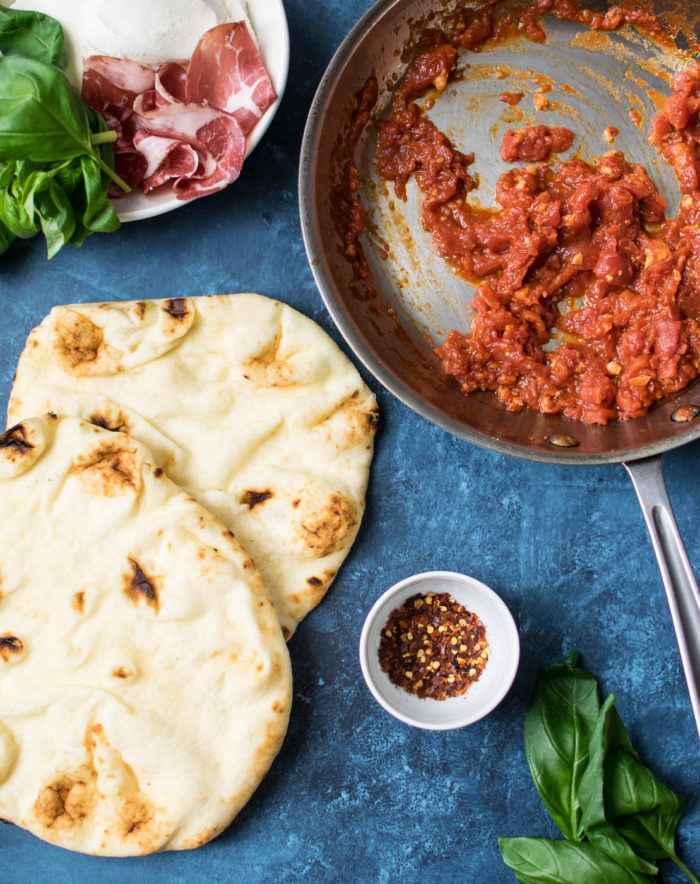 This recipe is perfect for a weeknight because we are using naan bread instead of pizza dough which makes everything so much easier and quicker without skimping on taste. All you'll have to do is make the very simple sauce and then layer the toppings and bake.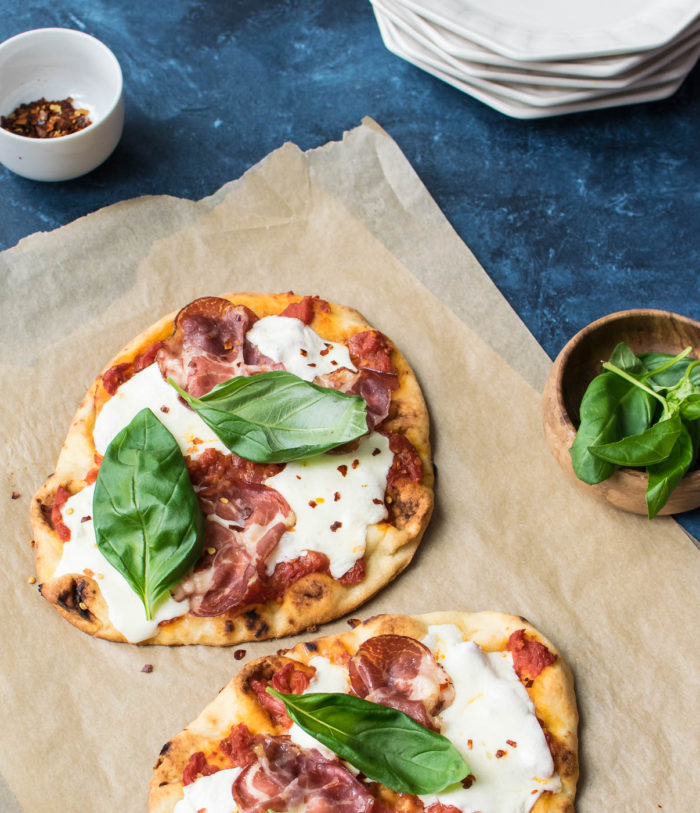 I like to use canned cherry tomatoes for this sauce because they have a richer flavor than other canned tomatoes and they're just really delicious. Most grocery stores carry them in the Italian section of the international aisle or with the other canned tomatoes. If you can't find them, you can use canned crushed tomatoes. For the rest of the ingredients, I like to keep it really simple with fresh mozzarella, fresh basil and salty coppa. The combo is so good!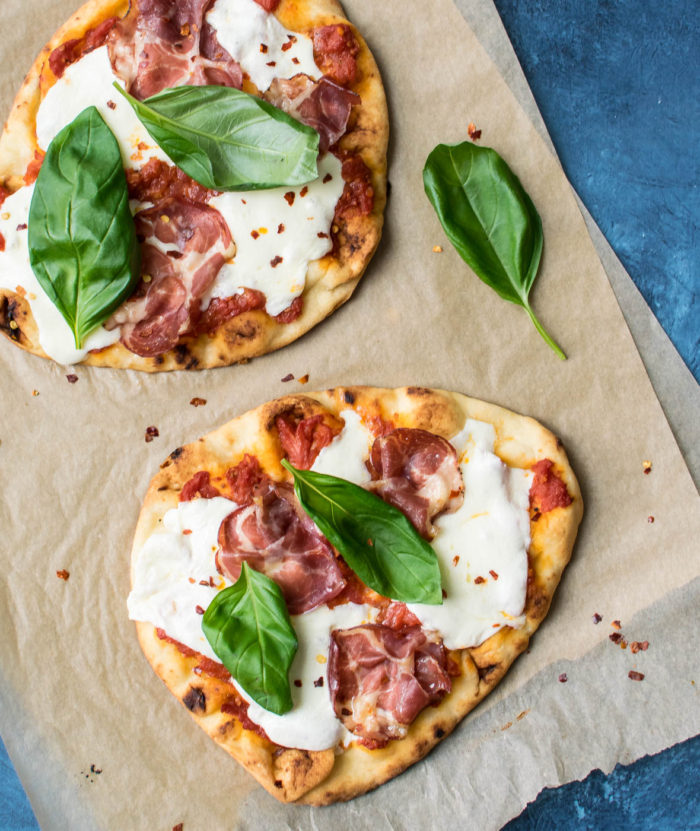 So basically, in half the time it takes to get delivery, and with half the money spent, you can have delicious pizza on your plate. Seems like a win to me!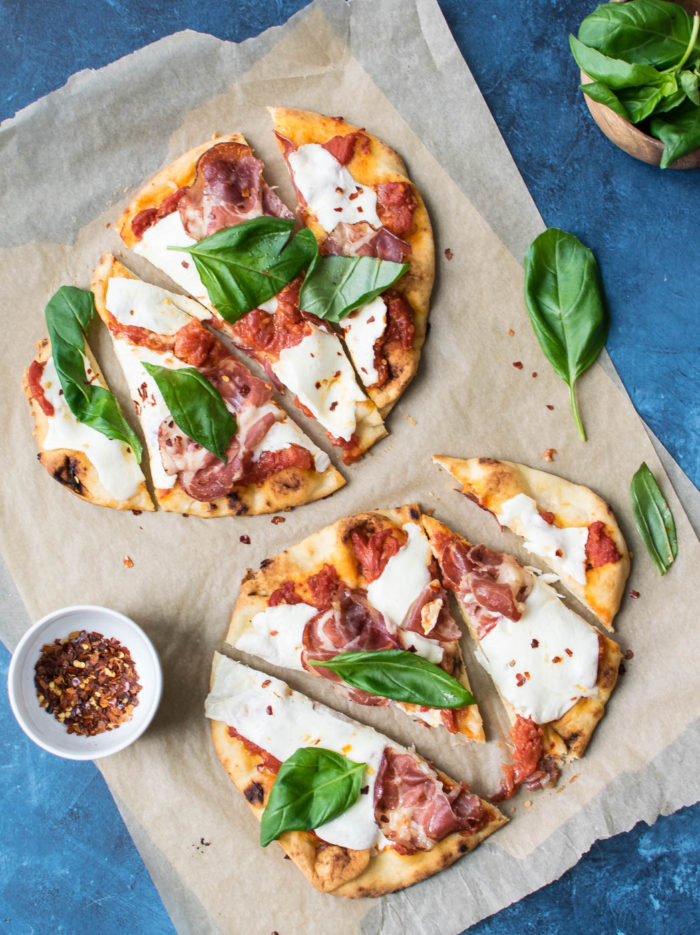 Also, for you guys that are not aliens, please comment below with your favorite pizza topping combos—I'd love to know!
Recipe Summary
Easy Naan Pizza with Fresh Mozzarella and Coppa

Level:

Easy

Servings:

4

Ingredients:

Pizza Sauce

1 15oz Can cherry tomatoes
2 Cloves garlic, minced
1 Teaspoon honey
1 Sprig fresh basil
1/2 Teaspoon dried oregano
1 Tablespoon Olive oil
1/2 Teaspoon coarse salt
Pinch of pepper

Other

2 Naan
Fresh Mozzarella, sliced
Coppa
Fresh Basil
Red pepper flakes

Instructions:

Pre heat oven to 400 degrees.
In a saucepan, heat the olive oil over medium heat and add the garlic. When the garlic starts to brown just at the edges, add the tomatoes, the oregano, salt and pepper and stir. Reduce the heat to medium low and add the honey and basil sprig, stir and let the sauce simmer for about 10 minutes or until the sauce is thick and the cherry tomatoes have softened. When the sauce is done, discard the basil sprig.
Spread the sauce on each piece of naan with the back of a spoon, top with slices of fresh mozzarella and coppa. Place the naan pizzas on parchment paper and onto the middle oven rack and let bake until the cheese is bubbly and the naan is golden brown; about 10 minutes. Top pizzas with fresh basil and red pepper flakes.
Enjoy! (You're welcome, wallet)