Ultimate Linguine with Clams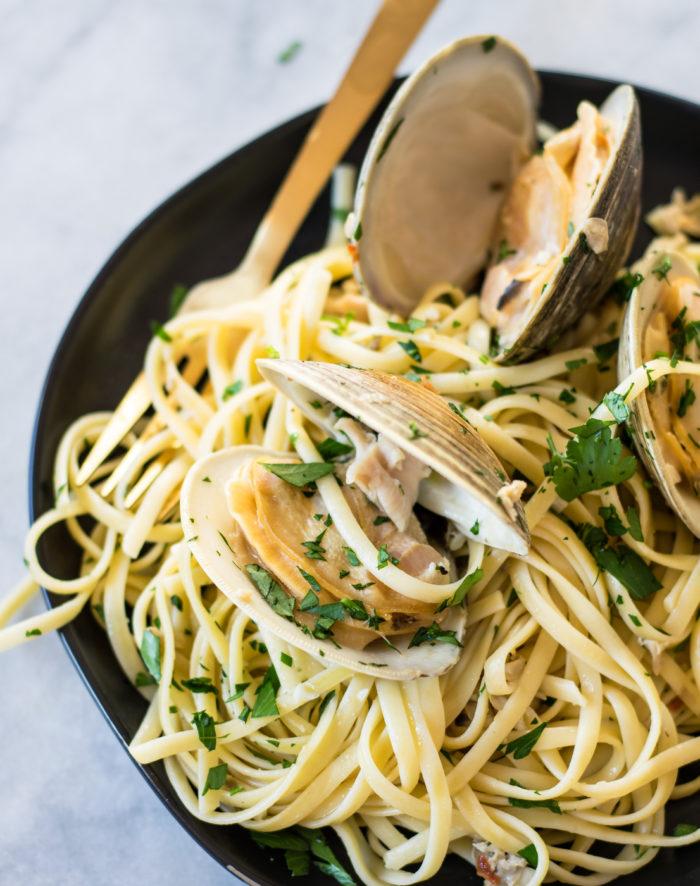 This is HANDS DOWN my favorite dish. Literally, if I were on death row and I had to choose my last meal, this would definitely be it. I would want it to be this specific recipe though, because this is the ultimate recipe for linguine with clams. I don't actually plan on being on death row ever in my life though, so I'll just continue to make this dish in my own home, if it's all the same.
The big difference in this recipe compared to others I've read, and what earns it the "ultimate" title, is that this one uses canned AND fresh clams. In my opinion, you need both to make the most flavorful, most delicious linguine with clams.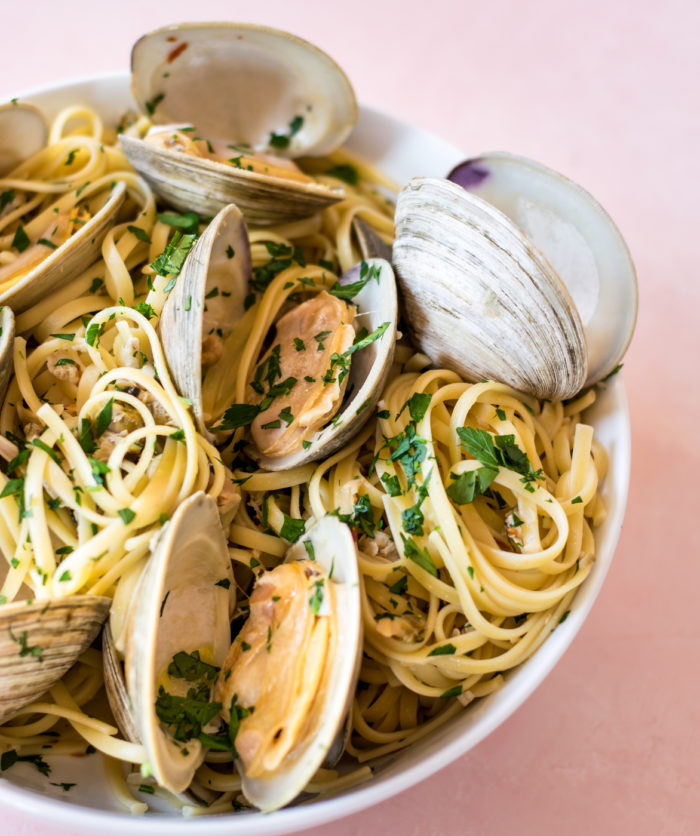 For whatever reason, I've found that some people feel scared to cook with clams. They think it's going to be some big, difficult ordeal, I guess, but that could not be further from the truth! Clams are super easy to work with and they cook really fast.
You'll be able to buy clams from wherever you buy fresh seafood in your area and you can use littleneck or manila for this recipe. You'll want to buy the clams the day that you're making this recipe to make sure they are as fresh as possible. I have, on occasion, bought them the day before and it's been fine but a few of them will probably die if you do that. RIP. Speaking of clams kicking the bucket, you want to make sure the clams are alive when you cook them. How, you ask? Think of the clam as a grumpy, old neighbor who doesn't want you coming to their door. Stick with me now, I swear this is going to make sense! When you buy the clams, they should be closed completely. If, while you're soaking them, you notice any have opened slightly, give them a tap with a knife. If they're alive (and grumpy), they'll slam their door (shell) shut so as to say, "go away and leave me alone!" Then, when you're cooking the clams, you want them to open up wide. If any clams don't open up, get rid of those suckers.
Probably the most annoying thing about clams, which is barely annoying, is that they have some sand in them. Hey, they come from the sea! The easiest way to get all of the sand out of the clams is to soak them in cold water while you're boiling the water for the pasta, chopping garlic, pouring yourself a glass of wine, whatever. Let the clams sit in the cold water for about 10 minutes, change the water once and let them sit another 10 minutes and then, finally, run them under cold water and scrub them together to get the last bits of sand off. I like to do that last part right before I cook them.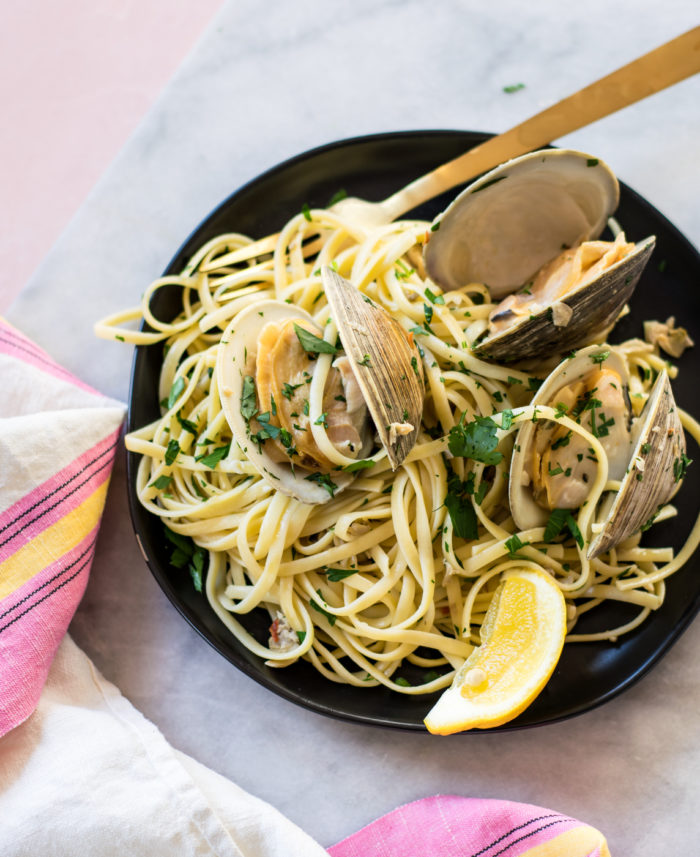 For this recipe, the most important thing to be on top of is timing. The linguine will cook pretty fast so you'll need to have the sauce well underway by the time you cook the pasta. The easiest way to make sure the timing is right is to get the pasta water boiling before doing anything else. You don't need to drop the linguine right away, but the water will be ready when it's time.
Now that you're a clam cooking pro, you should try out my recipe for Tequila Clams with Pancetta and Peppers and don't forget to share a photo with me on social media. It's my favorite thing when you guys make my recipes! I hope you love this one as much as I do!
Recipe Summary
Ultimate Linguine with Clams

Level:

Medium

Servings:

4-6

Ingredients:

1 Pound linguine
1 Dozen littleneck or manila clams, scrubbed
1 (10 Ounce) Can whole baby clams, juice reserved
1 (5 Ounce) Can chopped clams, juice reserved
1/4 Cup dry white wine
3 Tablespoons olive oil
1 Tablespoon butter
4 Cloves garlic, minced
1 Teaspoon red pepper flakes
Pinch of salt and pepper
1/2 Cup parsley, chopped
Lemon wedges, for serving

Instructions:

Make sure clams are scrubbed; see note above.
Bring a large pot of salted water to a boil and cook the linguine to 3 minutes less than the package instructions. The linguine will cook pretty fast so make sure to start the sauce before you drop the linguine in the boiling water.
Meanwhile, in a very large skillet, heat the butter and olive oil over medium high heat. Add the garlic and red pepper flakes and cook until the garlic is just starting to turn golden; about 1 minute. Add the drained clams, a pinch of salt and pepper and stir. Next add about half of the reserved clam juice. You may need to add more if the sauce gets too thick. Let the sauce cook down for about 5 minutes and then add the wine, and the fresh clams. Cook the clams, covered for 5 minutes and then uncovered until they open wide. If the sauce gets too thick while the clams are cooking, add more clam juice as needed. Discard any clams that do not open. When the clams have opened, remove them with a slotted spoon to a bowl.
Reserve 1 cup of the cooking water and then drain the pasta. Add the linguine along with half of the parsley to the pan to finish cooking and soak up the sauce, adding pasta water as needed.
Transfer the linguine to a large serving bowl and toss with the cooked clams. Garnish with the remaining parsley and serve with lemon wedges.
This dish is ideally enjoyed with a chilled glass of white wine and hopefully not on death row.