Mexican Shredded Chicken Dip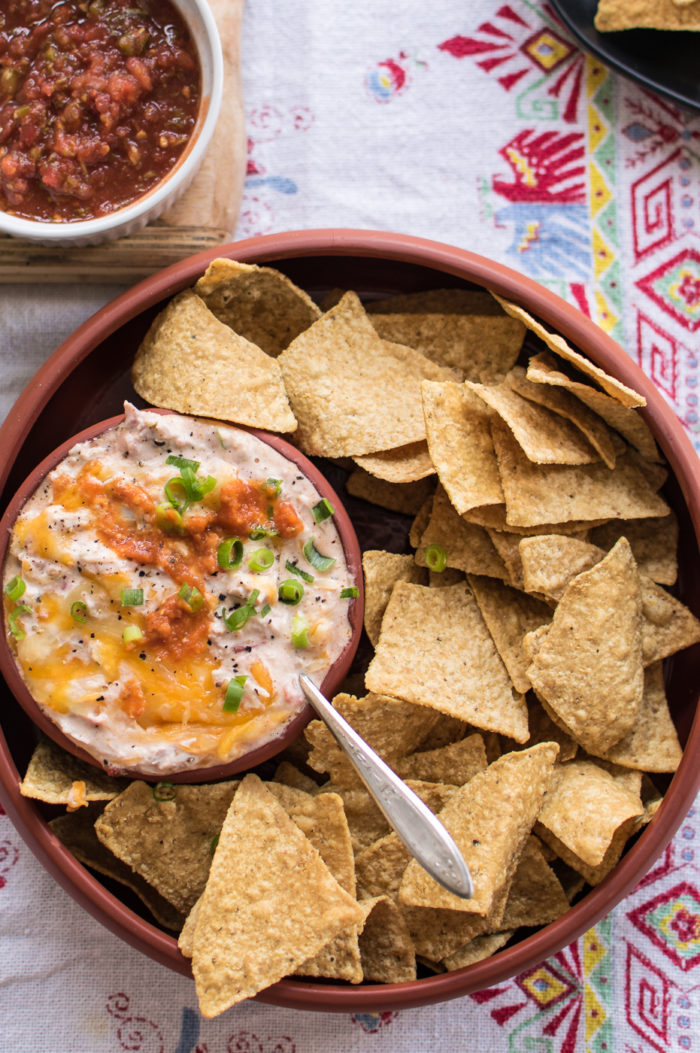 I love making this Mexican Shredded Chicken Dip for parties. Nobody has ever complained about having this dip around! (Except maybe when the bowl is empty.) I was going to say this is perfect for game day—and it is—but you know what else it's perfect for? Binge watching real housewives. That's right, sports, you don't get to have all the good food!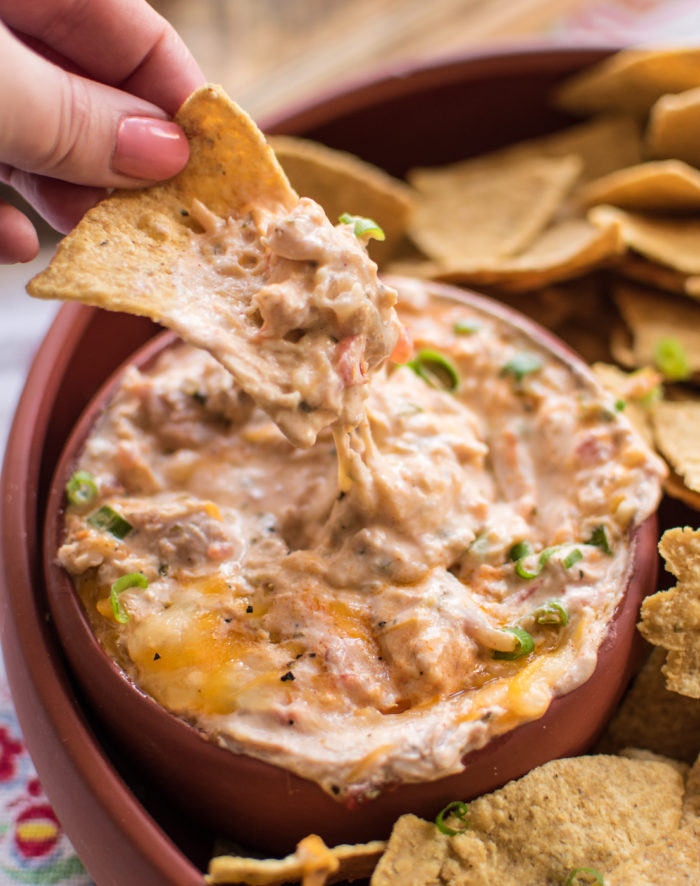 I love how easy this recipe is to make. You just mix everything together and bake it for 20 minutes to make sure it's warmed through and the cheese is melted. If you're planning on bringing this dip to a party, you could mix everything up and then finish it off in the oven when you get there. You could also make it at home, cover it with foil, and it'll still be delicious when you get there even if it's not hot out of the oven! This stuff is tasty hot, room temperature, or even cold (which is my boyfriends favorite way to eat it.) I mean, it's cheese, salsa, and chicken—how could it not be delicious?!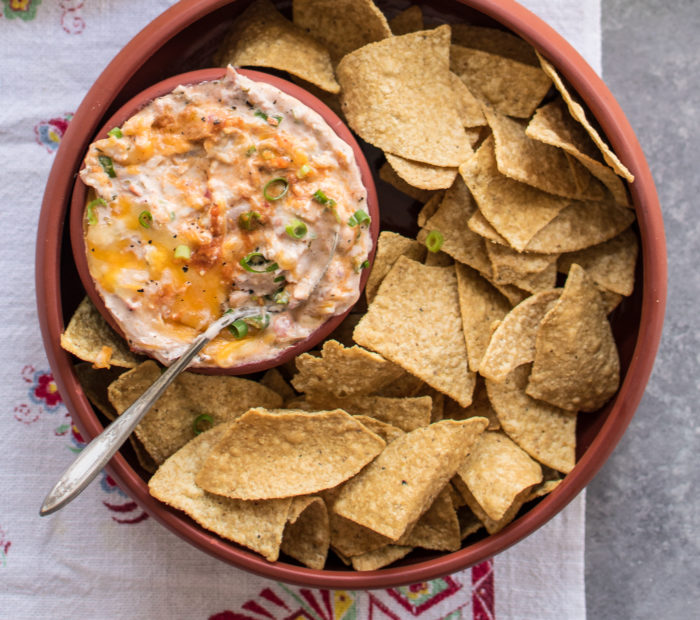 For the salsa, you can use whatever kind is your favorite. Spicy, mild, chunky, whatever! I usually opt for a medium, traditional restaurant style salsa but sometimes I'll mix it up and do a combo. The last time I made this, I used a mixture of traditional mild and a spicy chile de arbol salsa I found at one of my favorite grocery stores. I use rotisserie chicken for this dip. I figure when it comes to a dip that's going to be gobbled up in minutes, it's best to stick to convenience. Grab a roto chicky and shred it up! Or, if you happen to have any of my Mexican Shredded Chicken laying around, you could use that! I haven't tried this yet, but I bet shredded pork would be delicious in here too!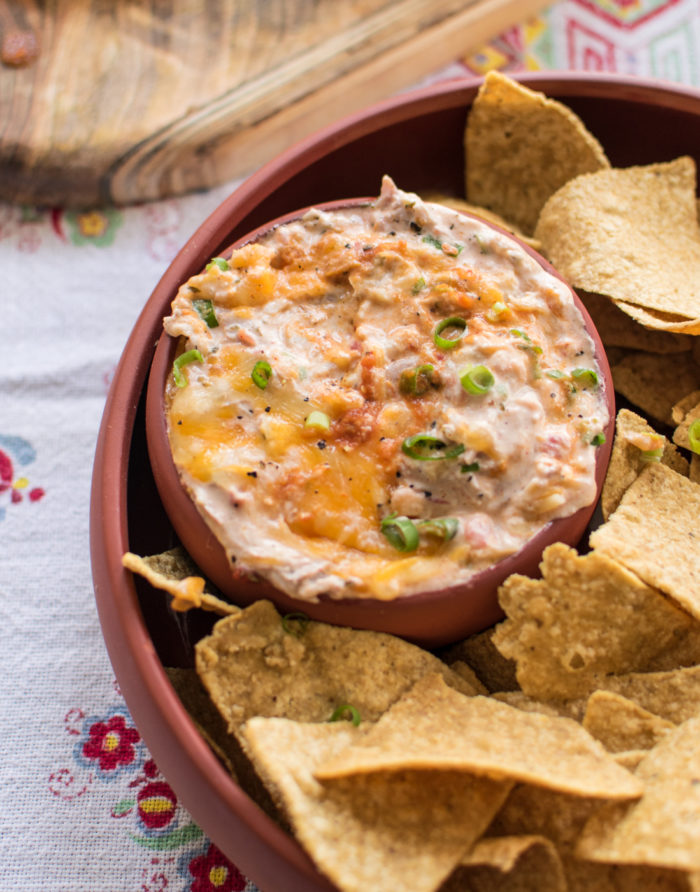 You'll mix most of the shredded cheese into the dip, but save some to sprinkle over the top before it goes into the oven. Whoever gets that first, cheesy bite is the luckiest! Cheese strings for days. I gotta be honest, this dip is not the best looking dip in the world. This stuff is seriously tasty but pretty? no. That's why before serving, I always garnish the dip with a couple more dollops of salsa and more scallions. It just dresses it up a bit. After people start eating it, nobody will care what it looks like. Which is great, because it'll look like a hot mess.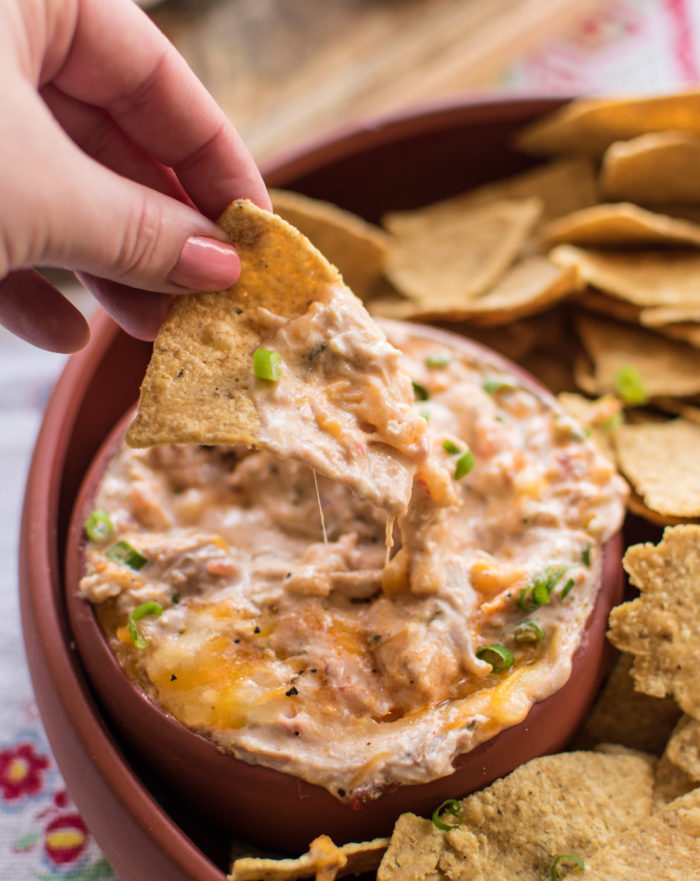 Bring this dip to the next party you're invited to and become everyone's best friend! Or, do like I do and eat this while re-watching old episodes of RHONJ. Whatever you're into.
Recipe Summary
Name:

Mexican Shredded Chicken Dip

Level:

Easy

Servings:

10

Ingredients:

4 Cups rotisserie chicken, shredded
1 Brick cream cheese, softened
1 Cup salsa
1 (4 Ounce) Can green chiles
1 1//2 Cup shredded mexican cheese, plus more for topping
2 Scallions, trimmed and thinly sliced plus more for serving
Black pepper to taste
Tortilla chips, for serving

Instructions:

Pre heat oven to 350 degrees.
Mix the cream cheese, salsa, green chiles, scallions, and cheese together in a bowl. Fold the chicken into the mixture. Pour the entire mixture into a baking dish and top with a sprinkling of the remaining shredded cheese. Bake for 20 minutes or until the dip is heated through and the cheese is bubbly.
Garnish with more scallions, black pepper and a dollop of salsa.
Serve with tortilla chips!