Linguine with Sardines and Fried Caper Gremolata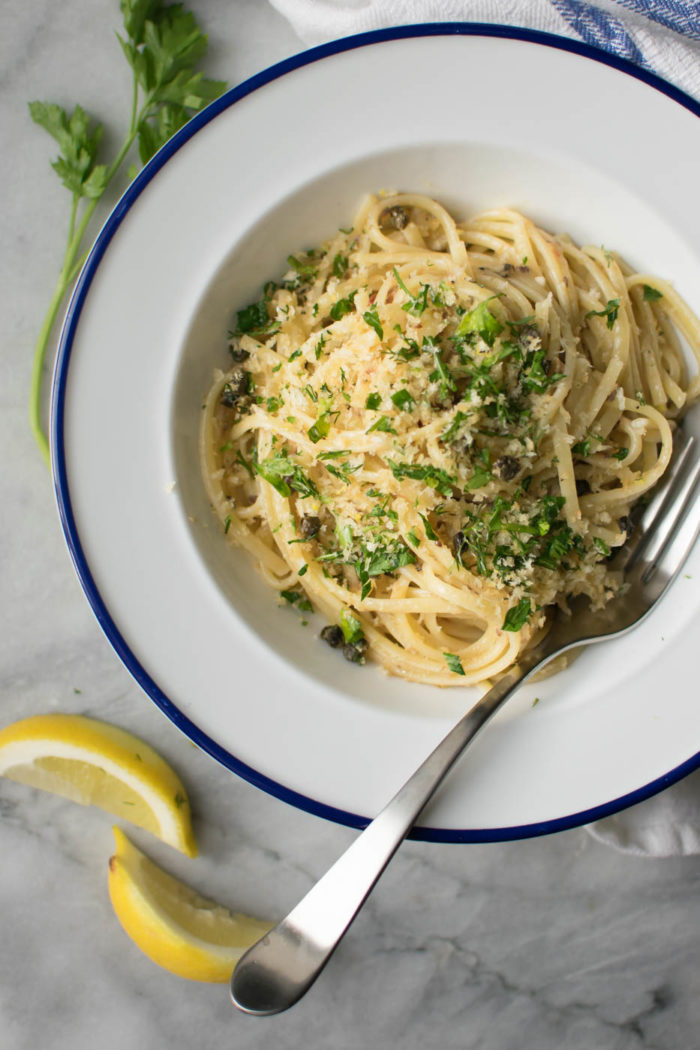 You don't have to be Italian to celebrate the holidays in the most delicious way ever: The Feast of the Seven Fishes! I've got an easy and delicious recipe that'll be perfect for Christmas Eve, or really any old day of the week!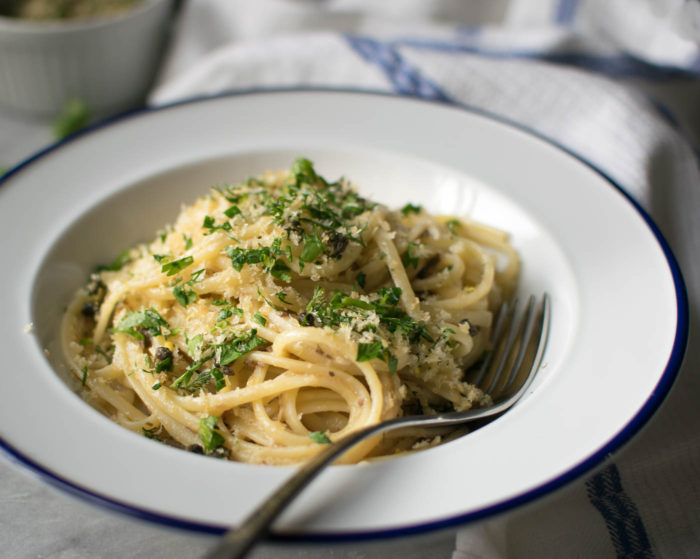 Traditionally, the Feast of the Seven Fishes is celebrated by Italian-Americans on Christmas Eve by enjoying a feast of seafood. BUT, not everyone celebrates Christmas and obviously not everyone is Italian-American so I would like to invite literally every single person to take part in this delicious feast! Lets not discriminate, we all deserve to stuff our faces with seafood and pasta.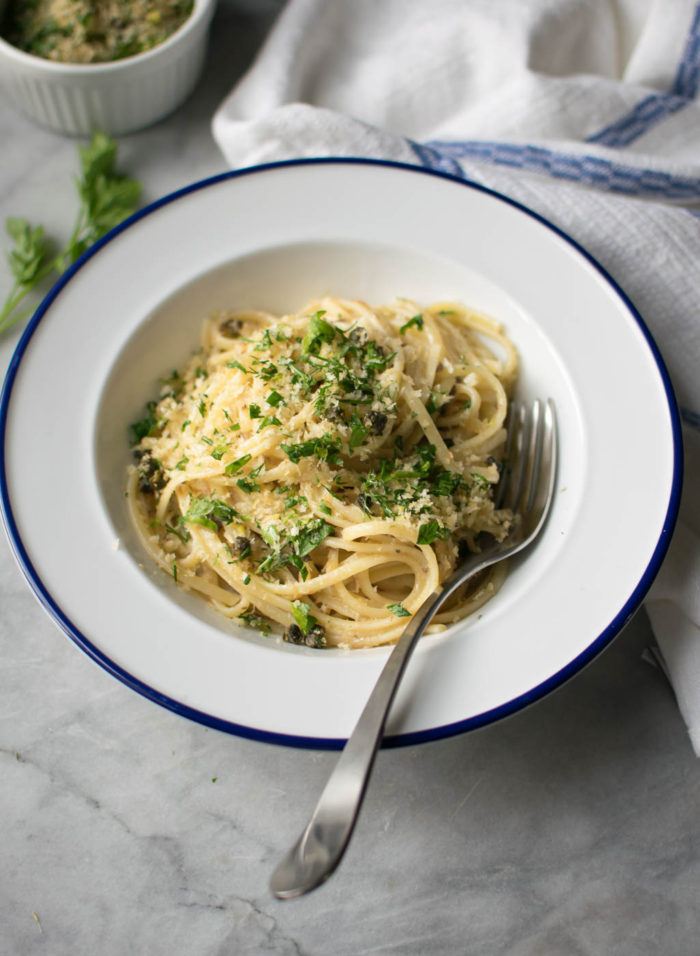 It's no secret that I'm a serious pasta lover. My Instagram is littered with pasta photos and that's me practicing restraint! There are A LOT more photos of pasta hanging out in my camera roll. Among alllll that pasta, it's the seafood pasta dishes that are always my favorite. Not only are these dishes SO delicious but they're usually the easier ones to make. This dish is no exception.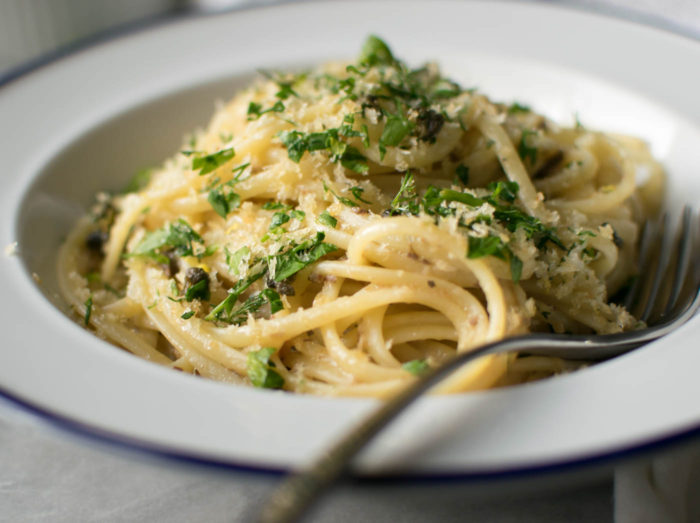 The best part of this recipe is the fried caper gremolata. Since any Italian will tell you that seafood and cheese don't mix (although, I OCCASIONALLY break that rule. Sorry Dad.) the gremolata will act as a replacement for the cheese. You'll see that not everything needs cheese—shocking, I know—and the garlicky breadcrumbs, lemon zest, fresh herbs and fried capers make the perfect substitute.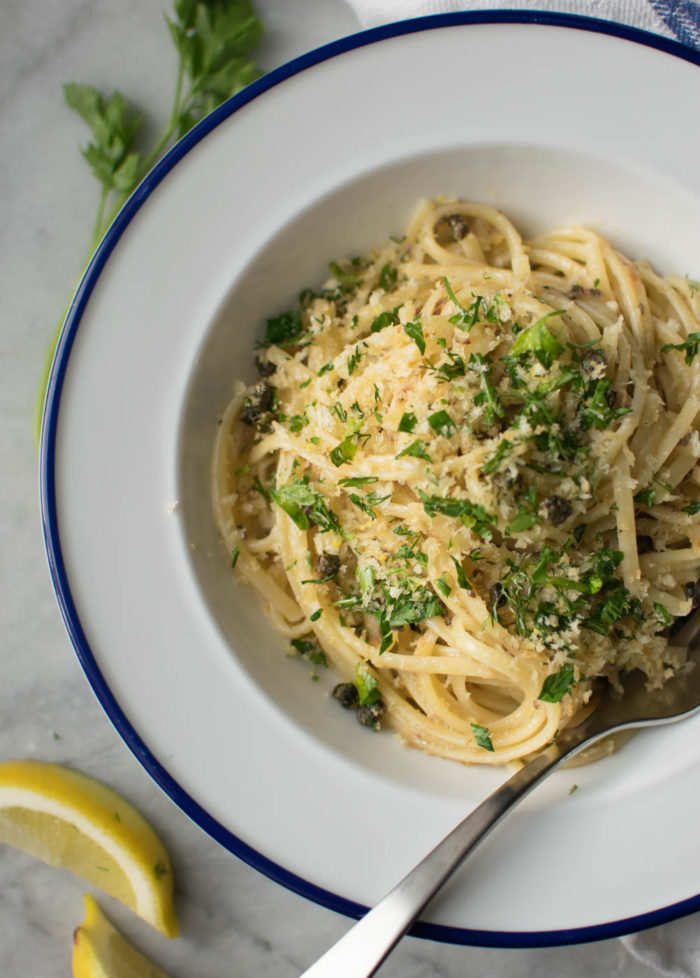 So join me in the holiday tradition of eating all the carbs and all the seafood, will you? You won't regret it and we'll all hit the gym in January, right? Happy Holidays!
If you guys love seafood pasta dishes as much as I do, be sure to try these recipes as well:
Spaghetti with Shrimp and Fennel
Fideuà with Pancetta and Seafood
Linguine with Pickled Peppers and Crab
Orecciette with Scungilli and Neonata Sauce
Recipe Summary
Name:

Linguine with Sardines and Fried Caper Gremolata

Level:

Easy

Servings:

4

Ingredients:

1 Pound linguine
1 Can sardines packed in olive oil
2 Tablespoons olive oil, divided
2 Cloves garlic, minced
1 Teaspoon red pepper flakes
1/2 Cup dry white wine
1/2 Cup reserved pasta water
Salt and pepper, to taste
Lemon wedges, for serving

Fried Caper Gremolata

1/3 Cup capers, drained
3/4 Cup panko breadcrumbs
1/3 Cup parsley, chopped
3 tablespoons dill, chopped
1 Teaspoon, lemon zest
Pinch of salt

Instructions:

Bring a large pot of salted water to a boil. Once boiling, add linguine and cook for one minute less than the package instructions.
Meanwhile, In a large pan, heat half of the olive oil along with a few drops of the oil from the can of sardines and add the capers to the pan. Cook the capers for about 3 minutes or until they have "blossomed". They should be darker in color and have opened up a bit. Remove the capers with a slotted spoon and place on a paper towel to drain.
In the same pan, add the panko breadcrumbs and a pinch of salt. Toast the breadcrumbs, stirring constantly, until golden brown. About 5 minutes. Pour the breadcrumbs into a bowl and add the drained capers, parsley, dill and lemon zest. Set Aside.
Add the rest of the olive oil to the pan and the sardines with their oil. Break the sardines up in the pan. When the sardines start to brown. add the garlic and red pepper flakes and stir for about 1 minute.
Add the wine to the pan, stir, and let it cook down for about 2 minutes.
Add the pasta to the pan along with the reserved pasta water. Add salt and pepper to taste.
Cook down until the desired "sauciness" is reached.
Divide the pasta between four bowls and top with the fried caper gremolata.